Moving from Florida to California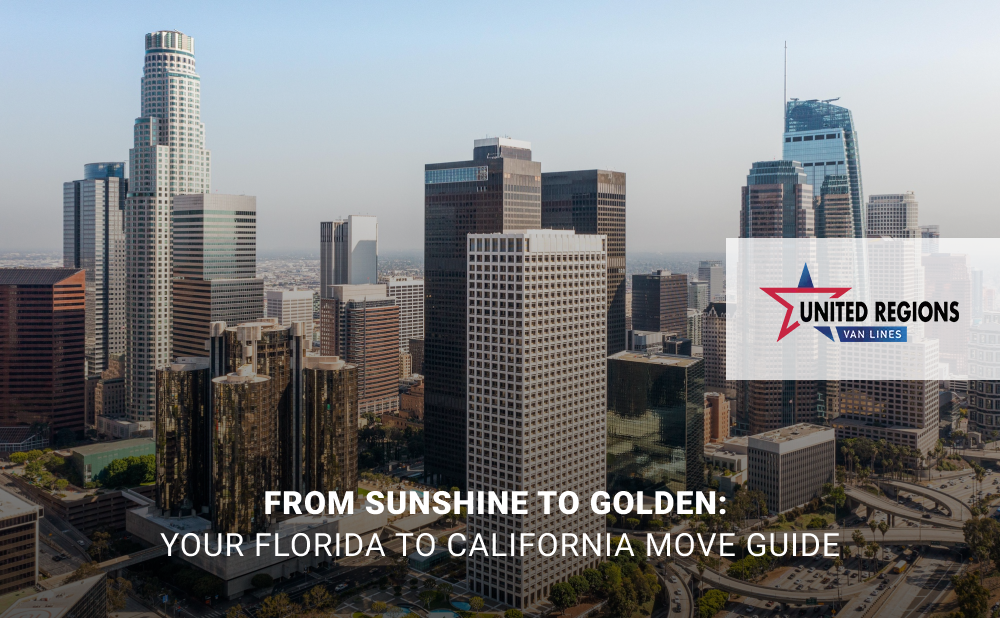 Are you considering or planning on moving from Florida to California? If so, you probably have questions you'd like answered. Before moving cross-state from one end of the United States to the other, there are a number of details to consider. Exploring the differences in weather, housing, educational systems, and job opportunities can help things go more smoothly.
How do you plan a move from Florida to California?
Moving is always challenging, even under the best circumstances, and going across the country to California means more detailed planning. Many things have to be done, and it's essential you don't miss something, from planning your budget to managing the utilities between the two locations. Here are a few topics to help you with long-distance moving:
Create a Moving Budget. Planning ahead will ensure you have the finances to make the big move. Knowing how much money you have or need to spend can help you make better financial decisions along the way and leave room for surprise expenses.
Choose a Moving Company. Each person or family has different moving needs. Determine how much help you want to enlist and how much you want to do on your own. Taking this approach will help you choose the moving services you need.
Visit the Destination. Ideally, take a trip to scout out your new place and surroundings. If you cannot physically make the trip, there are plenty of virtual options. 3D Earth View or Google Earth are great places to start. Your new city probably has its own website, which will allow you to learn more about the area and its businesses.
Get Paperwork Together. Gathering the right paperwork, including a new driver's license and registration, is a tedious part of any interstate relocation. Billing addresses will need to be changed on everything from credit cards and online bills to car insurance and banks. You'll also need to visit USPS to leave a forwarding address.
From professional packing and long-distance moving to storage services and senior moves, United Regions Van Lines is here to help make your trip a smooth and easy journey. For more moving tips and to learn more about our services, see our Moving Tips checklist.
What are the benefits of moving from Florida to California?
People flock to California for many reasons. The Golden State is home to many popular attractions, such as Hollywood, Silicon Valley, and sunny, beautiful beaches. The Pacific Ocean borders the entire western coast of California and offers a variety of natural landscapes to enjoy. Even though it is highly urbanized, it remains one of the top agricultural states. Who wouldn't want to move there with its natural parks, industrialization, and natural resources? Here are just a few of the benefits ready to be enjoyed when you move from Florida to California:
Healthier Lifestyles
Many people have discovered that California makes it easier to maintain a healthy lifestyle. Finding dining that meets your needs, including a wide range of vegan and vegetarian restaurants, becomes a breeze with its assortment of cuisines and local markets. It offers a variety of outdoor activities and the perfect climate for maintaining a healthy, active lifestyle. You'll find the culture encourages staying fit and enjoying the great outdoors.
Diversity
California is a highly diverse state. Many towns and regions across the state have unique people groups, food, customs, culture, and festivals. You won't need to travel far to discover a wide range of history, art, traditions, and cultures spread over every corner of the state.
Superior Education System
Whether you have school-aged children or are on your own journey toward a higher education, you'll find California to have an excellent education system. Many well-known and reputable colleges and universities in the United States exist in California, including:
University of California-Berkley
Pomona College
California Institute of Technology
University of Southern California
Spectacular National Parks and Scenery
California's diverse natural beauty offers more coastline area than Florida, along with stretches of beautiful beaches, forests, mountains, and deserts. Some of the most renowned national parks in California include quite a few names you are familiar with, such as:
Sequoia and Kings Canyon National Park
Yosemite National Park
Joshua Tree National Park
Redwood National Park (and State Park)
Death Valley National Park
Pinnacles National Park
Gorgeous Weather
You'll have plenty of opportunities to enjoy the great outdoors because of the beautiful weather in the state. In fact, many people move to California just to enjoy the year-round warm weather. The climate in the region is similar to that of the Mediterranean, which means the summers are dry and the winters are mild and wet. Near the coastline, the daytime temperature can hover between seventy and eighty degrees even during the hottest part of the summer.
Better Job Prospects
Some of the biggest companies in the world are based in California; just think of Silicon Valley. Many start-ups and small businesses have been born in the ripe financial atmosphere of Cali. The state lives up to its name as it is often referred to as the land of opportunity. If you want to advance your career or change jobs, California may live up to all the hype.
Better Quality of Life
California can offer a higher quality of life than what some have known in Florida. Its thriving cities and towns, and its beautiful beaches and parks, are famous all over the world.
What are the most popular cities in California?
California is home to some of the most exciting attractions and venues in the US. It's known for its larger cities, of course, such as San Francisco and Los Angeles, and they provide plenty of exciting adventures, from the Hollywood Walk of Fame to Disneyland, Alcatraz to the Golden Gate Bridge. Here is a general look at some of the most popular cities in California:
Fresno
Fresno is smaller than some of the other popular cities in California, and it offers a quaint, walkable metro region surrounded by farmland. The real estate in Fresno, CA, is some of the most affordable in the nation, well below the average in most major cities, and there's plenty to do in Fresno, including enjoying the picturesque landscape and culture.
Irvine
Irvine is also worth considering when moving to the Golden State. This mid-size city has a low crime rate and is in a highly convenient location. It sits just twenty minutes from the nearest beach and has plenty of entertainment, shopping centers, and job opportunities. Irvine is located in Orange County and is home to several notable institutions, including Irvine Valley College, Concordia University, and the University of California. The city of Irvine has also received national recognition for its commitment to a clean environment. Families or students working toward a degree will appreciate Irvine's relaxed and academic atmosphere.
Los Angeles
Los Angeles is not just one of the largest cities in California; it is one of the most populated cities in the whole U.S. The many theaters, fashion, and arts sectors allow its creatives to thrive, and its booming economy bolsters a huge variety of professional and manufacturing services. Los Angeles has a sprawling urban environment, but it also has plenty of suburbs perfect for retirees and families. Your pace and quality of life, from fast and thrilling to calm and domestic, can change drastically depending on which part of the city you choose to reside in.
Sacramento
Artists, young families, and millennials are flocking to Sacramento primarily because of the reasonable cost of living compared to many metropolitan areas. But it has much more to offer. Sacramento is a diverse city with a healthy job market and exciting nightlife
San Diego
Beach lovers find their homes in sunny San Diego. Even though it's known for beautiful beaches, it also offers a variety of job and living opportunities. It has seaside, urban, and suburban living options. The largest industries in San Diego provide lucrative job opportunities in the education, research, healthcare, tourism, military, and technology sectors.
San Francisco
The historic streets and famous monuments are a considerable draw in San Francisco. It's a city with a vibe all its own. San Francisco residents enjoy an average earning far above the national average, and the tourism, financial, and biotechnical sectors fuel the robust economy. San Francisco is considered a well-established global center for the tech industry and a cultural center for Northern Cali. The strong job market is appealing, especially for those in the tech industry, and nearby Silicon Valley in San Jose provides many opportunities. San Francisco is a great place to relocate if you want to pursue a career or just want to earn a decent living.
San Jose
San Jose is the capital of Silicon Valley. The heart of the bustling city has a strong tech hub, demonstrated by the many different large tech campuses. Tech giants like Google and Apple set up shop in San Jose, providing many career and job opportunities.
Santa Barbara
Santa Barbara is an exciting coastal town. Visitors come to Santa Barbara from all over the world to view the city's historic grounds and buildings. It has natural beauty and exquisite views, and the economy has many drivers to keep it robust. Some of these drivers include tourism, technology, higher education, finance, health care, manufacturing, and agriculture.
How much does it cost to move from Florida to California?
The costs of moving from Florida to California can vary greatly. Many factors come into play with any interstate relocation, such as the size of your family, your home's size, and the amount of your personal belongings. For example, moving into a single-bedroom house may range from $1200 to $1500. A three or 4-bedroom house, on the other hand, might cost between $5300 and $5700. A moving company can give you a rough estimate based on factors like:
How many boxes you'll need to pack your belongings?
The mileage from your home in Florida to your new home in California.
How much insurance do you want to purchase for the move?
The total weight of all the items you will be moving.
Whether you want the mover to pack for you; or pack your belongings yourself.
What time of year do you plan on making the move?
Here's a breakdown of the average cost of moving from Florida to California. These prices can vary significantly based on your situation. Make sure to consider the actual distance of the move and other factors, such as if you want to hire a moving company or do it all yourself.
| | | | |
| --- | --- | --- | --- |
| Size of Dwelling | Moving Company | Container Moving | Rental Truck |
| Studio – 1 Bedroom | $1,400 to $6,000 | $1,700 to $4,500 | $1800 to $3600 |
| 2-3 Bedrooms | $4,000 to $8,700 | $3,000 to $6,500 | $2,000 to $4,300 |
| 4+ Bedrooms | $8,000 to $14,000 | $4,000 to $8,700 | $2,500 to $5,200 |
Want to know exactly what United Regions Van Lines' expert door-to-door service might cost? Just complete this online form with your destination, moving date, type of residence, and contact information, and we'll provide a quick and free moving quote with no obligation.
Tips for moving from Florida to California
When is the best time to move from Florida to California?
Spring or fall are good options when moving from Florida to California. The weather conditions are suitable for a long-distance move during these two seasons, and interstate moving companies aren't as overwhelmed during these times as they are during the high-volume summer months. However, winter is the best choice if you want to save money.
When is the cheapest time to move from Florida to California?
The summer is the most expensive time of year to move from Florida to California since most people choose to move while school is out, driving up demand. Winter is the absolute best time to relocate if you want to save money. Moving companies often lower their prices as business is slower during this time of year and use discount prices to appeal to customers.
How do I become an official resident of California?
When you move to California, the first thing you'll want to do is establish residency. Being a resident will allow you to register your vehicles, obtain a California driver's license, and get discounts only offered to California residents, such as access to certain parks and in-state tuition at local universities and colleges. You establish residency in any state by:
Renting or buying an apartment or house.
Becoming employed in the state of California.
Registering to vote in California.
Establishing and operating a business in the state.
Having children who attend a primary or secondary school in the state.
The state of California will officially recognize you as a resident if you spend over 183 consecutive days in the state or live there for 6 out of 12 consecutive months.
Why do people move from Florida to California?
There are many reasons people move across the country from Florida to California. Due to the booming economy, job prospects often look for a fresh start in the Golden State. A major draw for many people is the diverse industries across the state. Industries such as the tech and entertainment industries help fuel long-term economic growth in California. Others choose to make the move because they want to enjoy the opulent West Coast lifestyle, including the state's sunny beaches, vibrant city life, and picturesque mountain ranges.
How long will it take to move from coast to coast?
How long it takes you to make the move depends on how much you need to move as well as the type of transport that you choose. Generally speaking, the process of moving a full household from Florida to California will take between one and four weeks in full.
Do I need any special documents to move?
You will not need any special documents ahead of time in order to make the move. If you are planning on staying permanently in California, though, you'll need to update documents like your driver's license, passport, insurance, and car registration once you've arrived.
How different is northern vs. southern California?
While the beachside setting is a constant, California's northern sections are different from its southern regions. Southern Cali is dry and sunny year-round, while Northern Cali has a cooler, rainy climate. The areas also have very different cultures that are worth exploring.
Should I expect higher taxes?
The income tax in California is higher than in most other states, but property taxes are relatively low by comparison. You may find a nice balance between your income and property taxes. However, the job market is exceptional across California, so you may be able to earn substantially more than in many states. This can help offset the higher tax rates.
How green is Cali?
California is one of the greenest states in the U.S. Sunny skies make it an excellent place for capturing and using solar energy. You will likely notice how many more solar energy systems there are in Cali. You may see a lot more wind farms than expected: the state is one of the most environmentally conscious areas in the United States. The state's leadership is dedicated to continuing to develop alternative and renewable energy sources. You can install solar panels if you purchase a house in the Golden State, and the government offers a variety of incentives and tax benefits to residents who choose alternative energy sources for their homes.
Let United Regions Van Lines Move You!
Long-distance moving can be complicated and complex, partly because of all the details. Working with professional movers at United Regions Van Lines can help simplify the process. Our highly-trained staff diligently works to ensure all your belongings arrive safely and intact. We offer a variety of packing and moving services to take the stress out of your trip. Contact us today and let us make your cross-country move a smooth and hassle-free experience.