Moving from San Francisco to New York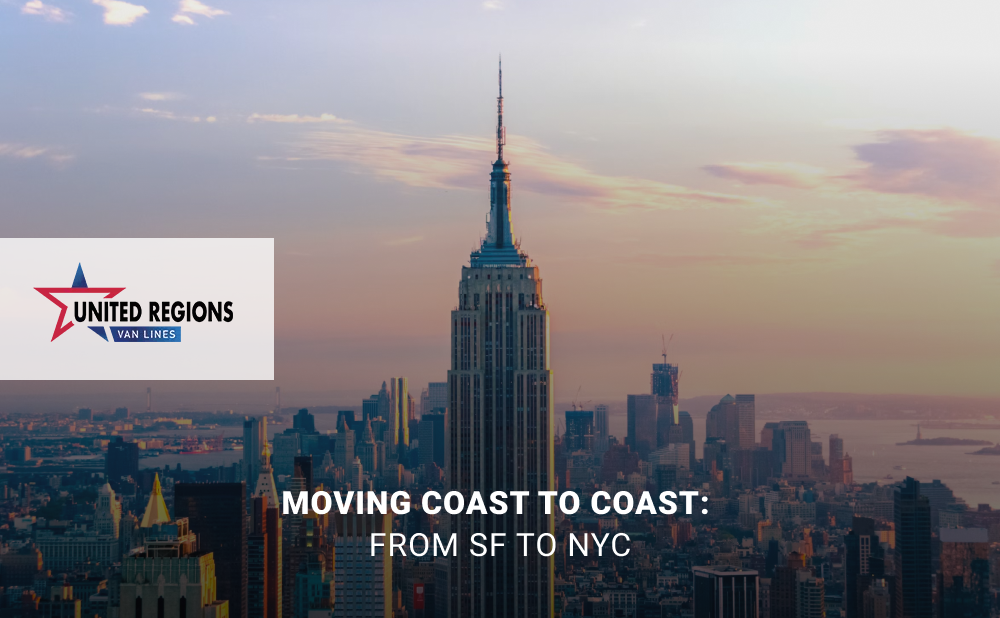 New York is the fourth largest state in the U.S., with a population of close to twenty million, and it's one of the top five states worth moving to. New York City is one of the most iconic and instantly recognizable cities in the world, and the state is known as the home of such famous companies as IBM, PepsiCo, Pfizer, Verizon Communications, and Deloitte.
Whether traveling to New York from San Francisco to follow your dreams, pursue a better education, or start a new job or life across the country, moving to New York is bound to be an exciting adventure. For this reason, this article will guide you through your transition from San Francisco to New York, presenting the benefits, costs, and other valuable tips.
Read on to learn more!
Eliminate the Stress of a Cross-Country Move
Moving to New York is an incredible journey, but it can also be cumbersome, especially when hauling fragile items like furniture, glassware, dishes, decorations, and other belongings. In this case, hiring a professional mover is the best solution. Experienced moving companies like United Regions Van Lines have all the necessary tools for safely conveying your belongings anywhere in the state. You can rest assured knowing that even the most fragile items, from your computer and monitor to antique furniture and heirlooms, will arrive safely.
Additionally, any damage that might be caused to these items on the trip is reimbursed by the moving company, relieving the stress of managing your belongings as you travel to New York. This peace of mind frees you up mentally to focus on other aspects of your relocation plans, making hiring a moving company an essential part of your cross-country trip.
Calculating the Cost of Moving to New York City
Moving across the country isn't a walk in the park; it's an involved process that requires meticulous planning, especially when you're leaving the San Francisco Bay area. The cost of moving can depend on what you're bringing with you and how heavy or fragile it is, and this can be a good time to declutter and consider what you'll really want to take with you as you start a new phase of your life. Not only does it simplify the move, it can save you money.
While the cost of hauling your belongings across the country can depend on a range of factors, some predictable price ranges are worth considering. The table below provides an accurate estimate of how much all the different elements of a professional move might cost:
| | | | |
| --- | --- | --- | --- |
| Apartment / Move Size | Moving Company | Moving Container | Rental Truck |
| Studio / 1 Bedroom | $1,762 – $7,431 | $1,842 – $4,595 | $2,036 – $3,950 |
| 2 – 3 Bedrooms | $5,259 – $10,558 | $3,267 – $6,838 | $2,205 – 4,703 |
| 4+ Bedrooms | $9,895 – $16,361 | $4,512 – $9,338 | $2,788 – $5,774 |
Other factors that can affect the price of a professional move from San Francisco to New York include the standard price range of a particular mover, the time of year, and additional, optional moving services. For this reason, it's necessary to contact multiple moving companies, ask for a free quote, and then pick the best offering that suits your budget and needs.
If you'd like a fast and free quote from United Regions Van Lines, you can enter the request online by clicking here. Just enter the residence size, moving date, city, zip code, and your contact information, and we'll provide a free moving quote with no obligations.
Factors that Affect the Cost of Hiring a Mover
The price of moving your belongings from San Francisco to New York isn't fixed. The range is often dependent on a multitude of factors beyond your control and can include:
1. Cargo Amount
The amount of belongings you bring to New York will influence the price a moving company will charge you. This factor is mainly within your control, and you can reduce your load by selling or giving away items that aren't necessary to bring along for your relocation.
It's also worth adding that your property is based on the amount of space it occupies (volume) and its weight. It isn't just the number of items: the bigger and heavier an item, the more it'll cost to be packed and delivered. The more you have to carry, the more you'll have to pay.
2. Travel Distance
Most expert movers are well-equipped and qualified to move your property from San Francisco to New York as safely as possible. However, this long distance will significantly impact the total price of employing the moving company. The impact is significant compared to moving a few streets from your house; a cross-country move involves higher transportation and labor costs for the company, and these additional variables will be reflected in your quote. But a seamless relocation from San Francisco to New York can be well worth the investment.
3. Time of the Year
Much like how prices rise during festive periods like Christmas, the same affects your mover. Certain times of the year might involve many people moving from New York and vice versa, resulting in higher demand, fewer trucks and moving teams, and higher prices. Summer months are often the busiest time of the year, so rescheduling for the winter months should reduce your expenses significantly. You can also ask movers for off-peak days; some will provide this information as part of their customer service so you can get the best price.
Want to know the best time to schedule your United Regions Van Lines move? Just give us a call at 877-770-1707, email us at info@unitedregionsvanlines.com, or send us a message online via our Contact Us page and we'll be happy to assist you.
4. Additional Services
While transporting your belongings across the state is the primary service of a moving company, we offer plenty of other services as well. A few examples include helping you pack and unpack your belongings, providing storage containers, or even offering long-term storage.
Employing these additional services will naturally increase the cost.. You can avoid these extra costs by packing your item without the company's help, but doing so does put your belongings at risk since you could be liable for any damage that happens along the way.
Tips for moving from San Francisco To New York
Your cross-country move from San Francisco will naturally involve spending money on packing equipment, tape, professional movers, and transportation. However, before you get too far into the process, here are some tips to make this relocation more seamless and stress-free:
Plan Carefully
Just like the trip itself, the secret to a successful moving experience is planning; you'll want to create a road map indicating all necessary aspects of your move. One crucial factor to consider early is how you'll transport your items: Are you using movers or conveying them yourself? Afterward, think about how you'll reach New York, whether it's by flight or drive. If you're driving to New York, you'll need to plan your route, time expenditure, and a possible place to stay if you arrive before closing – and a place to secure your belongings if they're with you.
Reduce the Load
There's a strong possibility that not all items you possess are worth carrying along to New York. In this case, discarding them to reduce the cost of moving is best since movers charge based on your item's weight and size. One frequent recommendation is to set up a garage sale and sell off unwanted items like old plates, toys, furniture, appliances, etc. You can list some of your things on Facebook Marketplace or Craigslist while you prepare to change location.
However, if there's not enough time for this activity, consider donating them to charity, as there are organizations happy to take your donation. Besides, the cost of moving these items may exceed their current value, so it's better to sell and buy a better one once you've arrived.
Maximize Your Packing Space
If you're packing your items in preparation for the moving company to haul and transport them to your new location, make sure you optimize the packing space. For example, clothes take up a lot of space, so fold them tight. If there's space in between, you can slide in smaller items like socks to ensure every area is used and your volume expense is kept to a minimum. This also applies to bedding, kitchen utensils, and books: be sure they're boxed up tight.
Label Your Boxes
Labeling your box makes it easier to unpack, primarily when you identify them by type or by which room the objects belong to a package. This strategy can save you anywhere from extra minutes to several hours of organizing your new home once you've arrived.
Also, be sure to take inventory of items within each box, like listing how many plates and cups are in the container for kitchen items and how many books are packed in each box. Taking this precaution keeps your mind at ease, knowing you can account for all your belongings.
Pick the Right Movers
Movers are essential for cross-country trips because they can remove the complexity of transporting your belongings. One method for finding the right company is to contact at least three movers and request an overview of their services plus a quote. This can help in determining the cost and whether each one's range of services meets your needs.
You can ask family and friends for recommendations when it comes to moving companies, and check each company's online ratings and reviews. However you start looking, it's always a good idea to make sure they're a registered and professionally licensed business.
Curious about United Regions Van Lines stands compared to the rest? Sitejabber's aggregate review score shows an average rating of 4.41 stars and a positive review score of 87.8%.
What are the Benefits of Moving to New York?
New York City is iconic for being a location riddled with activities guaranteed to appeal to most San Francisco movers. There's a vast and diverse population, excellent education, beautiful spots to visit, numerous job opportunities, and more. And while the weather difference might seem like a big deal, New York's no slouch when it comes to clear summer skies: it averages 224 days of sunshine compared to San Francisco's 260 sunny days a year.
Since you're bound to experience the same climate from New York to San Francisco, here are some noteworthy perks if you want to know the benefits of moving to NYC.
1. Job Opportunities
Employment is a common reason people change location, and if this is your goal, you're guaranteed to strike gold in New York City. New York is a hub for commerce, with 2.23 small businesses in the city and hundreds of the world's largest companies. These businesses include IBM, Duane Reade Holdings, Capgemini, Deloitte, Ernst & Young, and PepsiCo.
Naturally, this availability of millions of companies is reflected in New York's economy, which statistics show to have a Gross State Product (GSP) of $1.5tn in 2022. These establishments employed over 11 million people in 2022, with an annual employment growth rate of 3.0%. Therefore, you will find and build a fulfilling career in New York as the economy features booming industries like Tech, Health, Hospitality, Education, and more.
2. Diverse Culture
Since you're moving from to a new city, it's essential to understand whether your destination is as diverse and accepting as your previous place. Fortunately, New York City is one of the world's most diverse cities, with numerous ethnicities, cultures, and religions available. This is further bolstered by Statistics on New York demographics, which reveal the population consists of 63.31% white individuals. 5.39% Black, 5.58% Asian, and other races 8.56%.
This population diversity is also accompanied by freedom of religion, as people are free to be Christians, Muslims, Buddhists, Jews, or Atheists. Ultimately, you're free to express yourself and your beliefs in New York City as the population is diverse and the people are accepting.
3. Excellent Food
New York is impressively diverse, and this diversity also lends itself to some incredible cuisines. It's a paradise for food lovers that offers African dishes, Chinese foods, Italian meals, and local cuisines like deep-dish pizza, porterhouse steaks, and bagels. Many of its restaurants are world-renowned and their offerings are produced with care and professionalism.
4. Endless Entertainment
Whether you're moving to New York from San Francisco with your kids or for career reasons, entertainment is an essential factor worth considering. Sufficiently pleasant activities keep children happy and engaged; for work, it promotes a healthy work-life relationship.
Fortunately, New York is stocked with almost unlimited ways to stay entertained. There are a multitude of parks, museums, and so on, like the Statue of Liberty, Times Square, the Empire State Building, Central Park, Broadway, and the Brooklyn Bridge. There are numerous tourist attractions to keep you entertained with some of New York's must-see sights.
5. Education
New York has the world's most extensive educational system, with its infrastructure spanning Primary, Secondary, Higher, and Research education. This quickly becomes apparent given the number of people possessing an advanced degree in New York, with 83.2% of the population graduating high school and 39.6% of New Yorkers having a bachelor's degree or higher.
Additionally, New York is home to some of the world's biggest educational institutions, including:
New York Institute of Technology
Manhattan College
Long Island University
Vaughn College of Aeronautics and Technology
Columbia University
Cooper Union
Cornell Tech
Yeshiva University
The city has multiple programs if you're relocating for educational reasons. These prestigious universities offer courses covering everything from STEM to the arts.
6. Celebrity Hotspot
Social Media contains some gems of people meeting their favorite celebrities, and if you fancy this kind of coincidence, relocating to New York is a great idea. Hundreds of stars live in New York City, including Taylor Swift, Jennifer Lawrence, Justin Timberlake, Daniel Radcliffe, and Kristen Stewart. Of course, it's worth noting that few of these entertainment icons are easy to spot since they're either busy with work or escorted by bodyguards. Some people maximize their chances by visiting some famous potential locations for celebrity sightings.
Some places to expect celebrities can include Film premieres, Rockefeller Center, and Broadway shows. Nevertheless, your chances of meeting your favorite TV personality are higher in New York than almost anywhere else, making it a thrilling place to visit.
7. Convenient Transportation
Moving throughout the concrete jungle is seamless, as NYC has an impressive public transportation system and almost everything you need is within walking distance. This factor is partly due to only 69.63% of New Yorkers owning at least one car, meaning the rest rely on public transportation for daily locomotion. If you don't have a personal vehicle, the subway system is efficient enough to commute between distant locations within the city. As for places that require less than an hour of transportation, a Taxi, Uber, or bus will suffice.
Lastly, all modes of transportation are affordable with hassle-free payment options, making it easy to use. This also extends to air travel, as New York has two of the largest airports in the world, the John F. Kennedy International Airport and LaGuardia Airport.
Let Us Help You Get Started
Moving from San Francisco to New York is a complex ordeal that's often best left to the professionals. At United Regions Van Lines, our expert movers will make sure your belongings arrive safe and sound, as they have the experience to deal with any circumstance.
Outsourcing transportation to a professional moving company allows you to focus on the rest of your objectives and reason for moving, whether it's education, better job opportunities, or a refreshing change of environment. New York City has something to offer everyone, plus the sights to see and celebrity encounters make it an exciting location to enjoy.
Before you hit the road, make sure you pack strategically and label your boxes according to the items within or the room they belong to. Afterward, contact multiple moving companies to assess their quote. If you're looking for a moving company with door-to-door service, over twenty-five years of experience, and pricing that won't break the bank, contact United Regions Van Lines today and we'll be glad to help you get for your move to New York.
Happy traveling!
FAQs About Moving to New York
What is the best time to move to San Francisco from New York?
New York City is excellent from April to June and September to November, as the weather is warm and inviting. There are few crowds and visitors during this time, so you can quickly transition into your new place without having to fight the traffic each step of the way.
When is the cheapest time to move from San Francisco to New York?
Moving your property around April to June may be expensive since it's a busy period for movers. Therefore, you can try moving within the winter season or contacting the relocation company for the least busy time to move. Winter is typically the most budget-friendly period to enter New York as it's less crowded and there isn't as much demand for movers.
How to prepare for a long-distance move to New York?
Begin your journey by assessing every item you're willing to move, as the moving company will ask questions about the amount of belongings to carry. You can shave off this amount by selling or donating them to charity. Afterward, outline how you'll reach New York by flight or by driving; if it's the latter, plan your route and a place to stay in case you arrive very late.
Lastly, label your boxes and take an inventory of all items packed in each one. This makes it easier to unpack when you get there, and to quickly identify any missing property.
Is New York more relaxed than San Francisco?
New York is known as the city that never sleeps as it is a beehive of activities featuring various businesses and cultures and is more centered around work. These factors make it less relaxed than San Francisco, which offers residents a better work-life balance. Nevertheless, you can choose as bustling or mellow a schedule as you like; there's room for everyone.