Seasonal Moving from New York to Florida: How to Make the Journey Effortless
If you're one of the many people who enjoy spending the winter months in Florida, you know how important it is to plan your seasonal move. Whether you're moving from New York to Florida or from another state, choosing a reliable and experienced moving company is vital. Let's explore the challenges of seasonal moving and introduce you to United Regional Van Lines, a long-distance moving company that makes the journey seamless.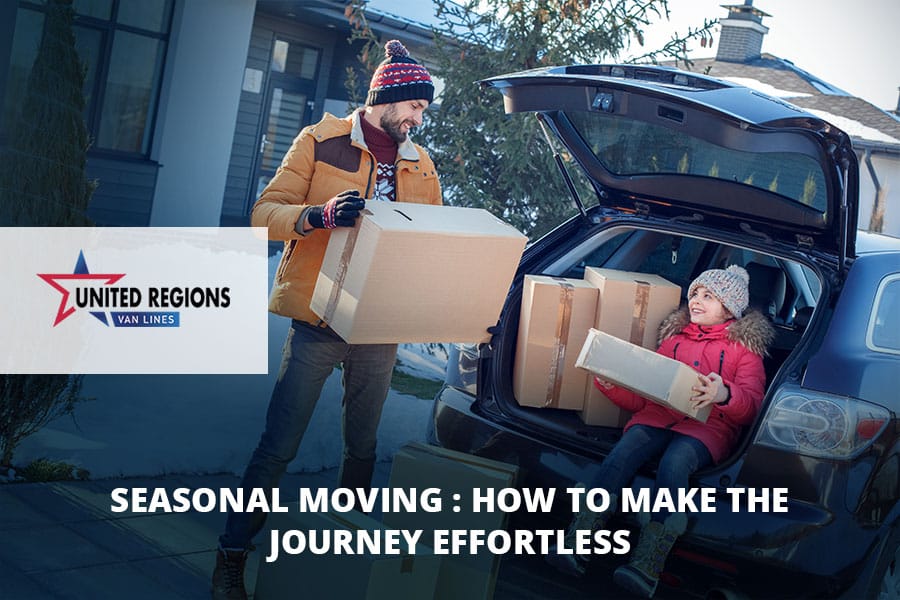 What is the average cost to move from New York to Florida?
The cost of moving from New York to Florida can vary depending on several factors, including the time of year, the distance, and the number of belongings you need to move. On average, you can expect to spend between $3,000 and $6,000 for the move. However, the best way to get an accurate estimate is to contact United Regional Van Lines for a quote.
What is the best time of year to move to Florida?
The best time of year to move to Florida depends on your personal preferences. If you're looking to escape treacherous winters, you should move to Florida during the fall (before winter arrives). However, If you're looking to escape the hot and humid summer months, it's best to move to Florida in the spring. Regardless of when you plan to move, United Regional Van Lines can help you move to the Sunshine Shine state year-round.
Picking the Perfect Place to Call Home in Florida
Florida, with its expansive size of over 10,000 square miles, provides a diverse range of living options for those relocating from New York. The cost of living, weather, and culture can greatly vary depending on your chosen location. For example, the average cost of a home in Kissimmee is $234,918, while in Miami Beach, it's nearly twice as much at $450,000.
Living In Florida: What Are Your Options?
When considering a move to Florida, there are numerous options to choose from, including Winter Park, with its family-friendly atmosphere, and Gainesville, known for its education and football culture. Nevertheless, it's important to consider what activities and amenities you value in your day-to-day life.
How to Choose the Right Location
When choosing your new home in Florida, consider the following factors:
Cost of living, including housing prices and transportation costs

Climate and weather patterns

Local culture and attractions

Proximity to family and friends

Job opportunities and career prospects

Safety of the area
By weighing these factors, you can make an informed decision on which location in Florida meets the needs of your family best.
Moving Tips
Moving long distances, either permanently or temporarily, can be a challenging and stressful experience. When moving from New York to Florida, there are many factors to consider, such as cost, timing, and preparation to make your move as stress-free as possible.
Cost-Saving Tips
Plan your move ahead of time to find the best deals and prices

Declutter and sell or donate items that you no longer need

Consider hiring a professional moving company to transport your belongings
Preparing for the Move
Research and choose a reputable and reliable moving company, such as United Regional Van Lines

Create a comprehensive list of items you need to pack and plan a packing schedule

Label boxes clearly and keep important items, such as documents and jewelry, with you.
Moving from New York to Florida can be a trying process, but it doesn't have to be a major headache with the right planning and preparation. Considering costs, timing, and practice, you can ensure a successful and stress-free move to your new home in Florida. With the help of a professional moving company like United Regional Van Lines, you can focus on settling into your new life in the Sunshine State.
Get on the Road to Florida With United Regional Van Lines
If you're ready to get to Florida's white sand beaches, you've come to the right place. United Regional Van Lines is one of the nation's best long-distance moving companies, offering relocation services from New York to Florida and vice versa. We ensure that your belongings arrive at your financial destination safely and efficiently. Get in touch with us today for a free quote.