Managing an Emergency Long-Distance Move for Senior Loved Ones
Moving long distance is seldom a straightforward process. It requires weeks, if not months, of careful planning, due diligence, and preparation. However, sometimes you need to move unexpectedly and without warning – c'est la vie.
Case in point, when you need to move a senior loved one. This is a common issue in the US, where a senior citizen suffers an abrupt medical emergency and must be moved urgently into a senior care facility or house community.
These moves must be quick, so your loved one can get the medical attention and care they urgently need. And sometimes, the senior move itself is long distance.
As a result, you must be quick on your feet and follow the proper steps to transport your senior loved one to their new location along with all of their belongings. If you're wondering how to go about it, this blog will educate you on all the aspects of emergency senior long-distance moving that you need to know about – step by step.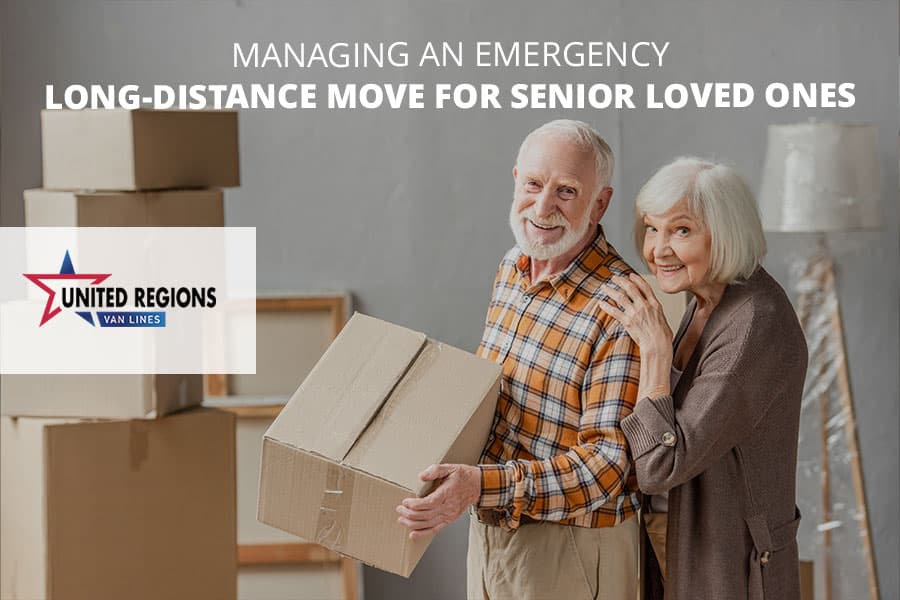 1. Figure Out Your Options
The first step is determining what assisted living house community you want your senior loved one placed in. Getting your loved one and their doctor on board is essential to ensure you are sending them to the right assisted living facility. Your loved one has to be on board because if they do not like their new home, there is no point in sending them to it. A senior move has to be consensual, and the person it affects the most has to be satisfied with it.
2. Gather Paperwork
Once you have a final destination for your senior move decided, collect all the relevant paperwork. This includes your loved one's medical documents since the new assisted living facility will need them to take adequate care of your loved one. You must also fill out the documents at the new location to ensure everything is above board and in order.
3. Assess The Finances
Now, it is time for you to determine the financial picture of the senior long-distance moving and their future needs. You have to determine how much it would cost to undertake the long-distance move and reduce costs wherever necessary and possible. You will also need to determine how much it would cost to keep your loved one safe and healthy at the new assisted living community every year so you can arrange the funds for it.
4. Make The Move
Once everything is in order, you must move your loved one to their new home. You might need medical transport for your senior loved one, so arrange it if needed. Otherwise, you can fly or drive them to their new home. If the assisted living community does not provide furnishings, you will have to hire a moving company to bring all the necessary furniture.
In some instances, even if the new facility has furniture, your loved one might have some possessions and furnishings to which they attach a lot of sentimental value. If they want to bring it with them, you should get a moving company. After all, these pieces can play an important role in keeping your loved one happy and mentally healthy.
5. Wrap Up
Now that your senior loved one is safe and secure in their new assisted living community, getting the kind of medical attention and care they deserve, you can sigh a breath of relief. However, your work is still far from done. You have to figure out what to do with their now unoccupied house and left behind furnishings.
For the house, you can sell it or rent it out. Perhaps someone else in the family has a use for it, so consider letting them use it. As for the furnishings, you can divvy it up among the family or use it yourself. If not needed, just sell all the items away or dispose of them.
Final Words
These are the five steps for you to follow for a successful senior long-distance moving. Remember that following the emergency, time is of the essence, and you must be quick to settle your loved one in their new home. Just abide by these steps, and you will be able to see this process through to the finish line in no time.
Of course, step number four and even five would be impossible without a reliable moving company by your side. You need somebody you can trust to take over the responsibility of moving your loved one's possessions long distance responsibly and safely.
This is why you should contact United Regional Van Lines (URVL). We will be by your side at every step to ensure you can get your loved one into the medical facility they need. Call us today to learn more about how we can help you.