How To Move Large, Heavy, Or Bulky Items For Long Distance
For many, moving cities or states comes with a lot of excitement. You get to experience a new place with all its unique cultural and geographical quirks. Plus, it also opens up new professional and personal opportunities for you.
But no matter how you dice it, moving away to a distant place is not a logistically easy task. It requires months of careful planning and preparation to ensure you can uproot your life in your current location and seamlessly settle down in a new place.
You have to figure out what schools the children will attend and what repairs your new house might need. And yes, what items and furnishings do you take with you, and what do you leave behind?
Many people opt to leave behind their largest and bulkiest furniture because they assume it is too difficult to transport it long distance. Often, this decision is not easy since people have a lot of sentimental value attached to these pieces— and you cannot put a price on that!
Fortunately, there is a way for you to bring these essential bits and pieces of your life with you to your new home, no matter their size or weight. With careful planning, you can also transport these large items a long distance!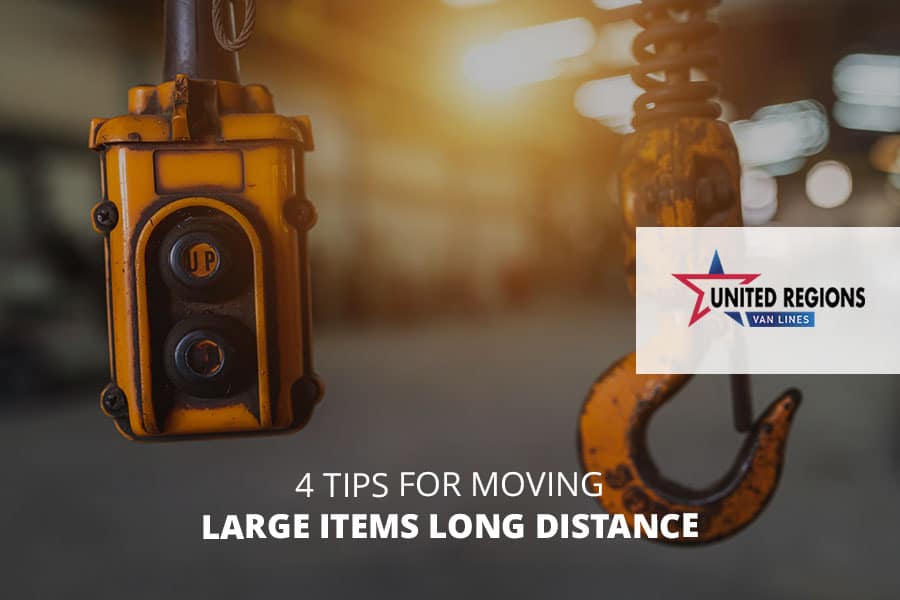 4 Tips For Moving Large Items Long Distance
Moving large and bulky items is always tricky. But with these four suggestions, you can make the process as easy and safe as possible.
1. Disassemble And Detach
You cannot transport large furniture items in one piece— otherwise, you might receive them in multiple pieces! You have to disassemble them, making them easier to manage and less likely to get damaged.
Certain items are easy to break apart – for instance, beds, drawers, and shelves. Simply unscrew all the parts and pack them together.
However, other items can be trickier. If you have a large dresser, table, or sofa whose legs can be detached easily, you should consider doing so. Remember to label all these items so you do not have trouble putting them back together.
This is necessary because protruding legs and knobs easily scratch and damage. By disassembling them, you can take care of each part and not harm these large items with sentimental value.
2. Get Sliders And Rollers
Before you can even begin loading your large items into a truck, you must get them out of the house first. Moving these large, heavy objects is difficult. Maneuvering them out of the house requires a lot of brawn and dexterity.
Luckily, you can make this process easier by using sliders. You can place these soft, smooth pads at the bottom of the item to move it around quickly. These will make the process of moving these items faster and much safer. You will not have to worry about a large cupboard tipping over onto someone when you lift it. Simply slide it along the floor until you can reach the truck and load it onto it.
You should also get stair rollers if you live in a multi-story house. These are usually available for rent or with professional moving companies. You can lift a large item onto them and safely take them up and down a flight of stairs. These are also useful for people in apartment units whose elevators have a weight or size limit.
3. Get A Large Semi
When moving long distances with large items, it helps to have a large semi transport your furnishings. These trucks can easily hold several large items and will safely deliver your items to their final destination.
4. Consider Wrapping Your Items
If you want to protect your large possessions from damage while moving long distance, you should consider wrapping them up. Some people wrap their belongings in blankets or bubble wrap, but large plastic sheets are sufficient for big objects, too.
This is a necessary step to guard your possessions against bumps and scratches caused by moving them around and the ride itself. Moreover, since your furnishings will be in a truck for an extended period as it travels through hot, cold, and humid climates coupled with all sorts of weather conditions, a plastic sheet will prevent your objects' condition from deteriorating.
Wrapping Up
Moving long distance is not easy, but it is certainly doable. You do not need to undertake this process alone. With the right partners by your side, you can bring your large and bulky items to start your new life in a new place.
This is why you should get in touch with us! United Regions Van Lines (URVL) is the perfect moving company to take care of your large possessions and deliver them to their destination quickly, safely, and responsibly. Call us today!